On Semptember Alcoa announced what it called a "breakthrough" resistance spot riveting method to join aluminum and steel — and it's one that could eventually be used by a collision repairer as well as an OEM factory.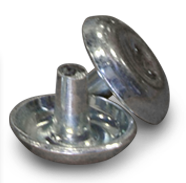 Alcoa, Honda R&D and Ohio State will now use Department of Energy funding to develop a prototype that uses the joining technique. Alcoa thinks it can have the rivets ready for the marketplace in 2018.
RSR riveting can connect basically every material automakers are considering for vehicles today and the next decade, according to Alcoa. Besides connecting aluminum to steels ranging from mild to ultra-high-strength, the rivets can also connect combinations of those metals with magnesium and composites like carbon fiber.
Read the full story at Repairer Driven News and Alcoa
Share This: